Hi All,
I am using 6.3.8 Community Edition.
Since the Scanner Tool (for now, hoping it would be soon) is not able to merge pdfs. I opted to use the OKMHotFolder for us to upload a file to the OKM Server.
A few things I noticed about the HotFolder installer:
1. I have downloaded the zip file that contained the OKMHotFolder 1.0 version installer and it seems that it contained a different installation file as
it is named as "OKMHotFolder-ce-1.0" but the contents are different, the installer folder is named as "OKMHotFolder-pro-1.0". I am not sure whether the installer is for pro or ce version? (indicated in the first red box on the screenshot below).
2. I have a screenshot below of the error whenever I am installing the OKMHotFolder 1.0 on my machine.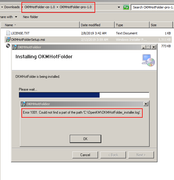 Would there be anyone that uses the OKMHotFolder 3.0 version? Can I get a copy for us to use?
Thanks in advance.